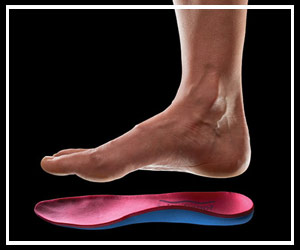 Flat feet, also known as fallen arches can offer you challenges when trying to find a boot that fits right. Normal boots are usually uncomfortable for those with flat feet causing foot fatigue. This can be a problem for someone who needs to wear their boots for prolonged periods of time.
Most adults notice that they have a curve in their foot's arch. When the tendons connecting your foot bones and your heel do not pull together correctly flat feet occur. This happens for a variety of reasons but most commonly are caused by genetics or damage to the arch's tendons, aging, and obesity.

How to Alleviate the Problem of Flat Feet
For some people, flat feet doesn't cause any problems while for others they experience some pain when walking for long distances and swelling and inflammation that spreads to the ankle. Some people will even experience pain occurring in the back and the hips.
By wearing the right boots you can help alleviate your problem of having flat feet. If you have never purchased orthotic devices or special shoes for your flat feet all the options can be overwhelming. The biggest issue occurring when someone has flat feet is that they need more support than other people who have more arch.
A foot's arch helps your posture and moves the weight of your movement to the balls of your feet and heels. This distribution of weight adds stress to parts of your foot not meant to do that much supporting. Having flat feet creates stress on the hip joint leading to different symptoms after prolonged wear and tear.
There are boot companies that offer special footwear for people with flat feet. They cater to those with these issues by creating a boot that is more comfortable for someone with flat feet. Here are ten boots that might work well if you have flat feet.
Top 10 Best Boots For Flat Feet Comparison Тable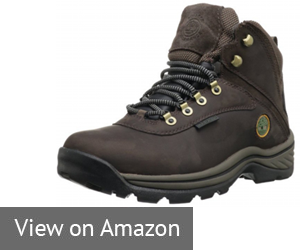 The Timberland White Ledge Men's Waterproof Boot is one of the best boots available for those with flat feet. They are made with full-grain waterproof leather and textile materials that are durable and will hold up for a long time. They have a rubber sole, oiled-leather finish, lace-up vamp, and a rear pull loop. There is also a padded collar and tongue providing comfort for your ankles. Also included is a removable and breathable dual-density EVA footbed.
The boots waterproof material helps to keep your feet dry and protected while wearing them for hiking in wet and muddy conditions. The padded collar and tongue help to give a comfortable tight fit.
The footbed is perforated to allow the circulation of air keeping your feet cool and dry. The bottom of the boot gives you great traction that responds to the natural motion of your steps.
Cons
Some complaints about falling apart too quickly
Good for a moderate rain but begin to leak if worn all day
Don't hold up when worn by a larger man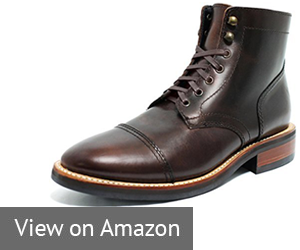 The Thursday Boot Company Captain Men's Lace-up Boot is another one of the best boots for men with flat feet. These are more of a dress boot made with high-quality leather. The soles are studded and made of rubber for extra grip on just about any surface. They feature a classic cap-toe style that features a lace-up vamp, flat wax laces, and speed hook eyelets. They are water resistant and are constructed for better support and durability.
The footbed is made out of cork and has an EVA comfort strip that over time will form to your feet. It is recommended that you order a pair that is a half size or full size smaller than what you wear in athletic shoes.
At the ankle is a full glove leather lining that ensures a comfortable fit. The leather upper has a beautiful finish that will look even better with age. The flat was laces give the boots a clean and sophisticated look that will stand out.
The comfort strip will become even more comfortable as it forms to your foot over time providing comfort for all day. The studded rubber outsole provides the grip that you need on any surface. They are constructed to be water resistant and can be completely resole bale.

Cons
Complaints of inconsistent quality
Fit smaller than other shoes of the same size
Even when broken in are uncomfortable
3. DailyShoes Military – Best Woman's Flat Feet Travel Boots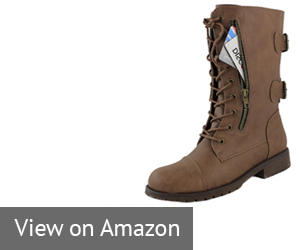 The DailyShoes Women's Military Combat Lace-up Pocket Boots are one of the best boots available for women with flat feet. Boots are made of synthetic materials and are imported.
They are sized correctly and should fit comfortably on women of different sizes. They are ruggedly crafted for easy walking on all kinds of terrains. There is a 3" x 3.5" zippered pocket for storage giving you somewhere to put your cash.
Boots have a slip-resistant rubber sole with plenty of traction and grip. They are constructed of heavy-duty vegan leather that is able to resist wear and tear.

Pros
Made with durable vegan leather
Includes a 3" x 3.5" zippered storage pocket
Sized perfectly to fit women of all sizes
Ruggedly crafted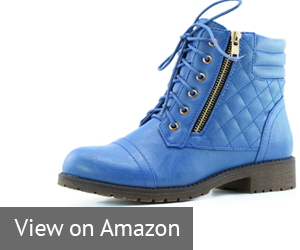 The DailyShoes Women's Military Combat Boots are another one of the best options when it comes to boots for women with flat feet. They have stylish details including decorative stitching on the toes and a diamond quilted stitching on the sides.
These combat boots are a feminine twist on the combat boot. There is a 2.5" x 4" zippered pouch to hold your essentials while you are on the go. This pocket is perfect for cash, credit cards, a pocket knife, tickets to an event, coupons, or keys.
These pockets rest against the shoe's inner lining hidden from view. They are great for walking on any terrain with their slip-resistant rubber soles and special traction grip. They are constructed with heavy-duty vegan leather that is resistant to wear and tear.

Pros
Premium quality comfortable boots
Shoelaces that are great for boots with wax all the way through the fabric
Rubber soles with great traction for any conditions
Hidden pocket to hide away a few things that you need
Built tough to be used every day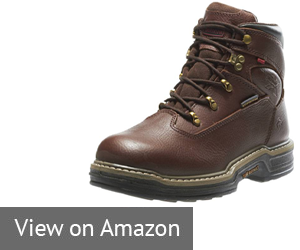 The Wolverine Men's W04821 Buccaneer Work Boot is one of the best work boots available for someone who has flat feet. They are made from imported leather and have a rubber sole.
The full-cushion footbed is removable if you want to insert another footbed instead. They are constructed to move with you. The outsole is slip, oil and abrasion resistant. There are compression pads that absorb the shock and return the energy. The boot is also able to bend and flex to give you the most performance.
These boots are offered with a 30 day comfort guarantee that states you can return the boots within the first 30 days if you are unsatisfied with their durability and comfort.
These ankle-high work boots feature a leather upper with a multi-shock compression pad that is molded in the outsole.
Pros
Made with high-quality leather that is imported
Flexible rubber sole providing more comfortable movement
Leather upper that has multi-shock compression pads and moisture-managing mesh lining
Full-cushion footbed is removable
Contoured construction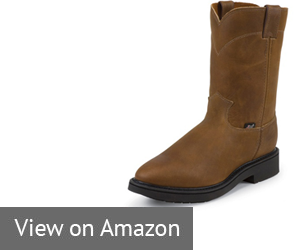 The Justin Original Work Boots Men's Double Comfort 4760 Work Boot is another one of the best work boots available for people with flat feet.
They are made in the USA with premium high-quality leather. They include a rubber sole that offers some good traction.

Pros
Hand-crafted in the USA
Rubber sole offering good traction
Made from premium oiled leather
Seven-layer Double Comfort designed for durability and comfort
7. Caterpillar Hydraulic – Most Protective Steel Toe Work Boots for Flat Feet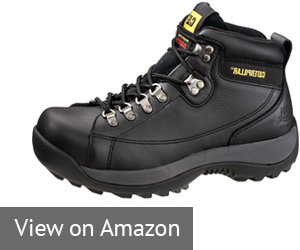 The Caterpillar Men's Hydraulic Mid Cut Steel Toe Boot is one of the best steel toed work boots available for people with flat feet. They have a comfortable design and are dependable to meet the needs of the world today.
Boots are manufactured to absorb shock and to return energy. They are a quality product that has flexible and designed for all types of professions.
The upper is made from full-grain leather with a cement construction. They have a steel toe and an outsole resistant to slips on oil and water.

Pros
Made with high-quality leather
Rubber sole with great traction
Slip resistant
Steel toe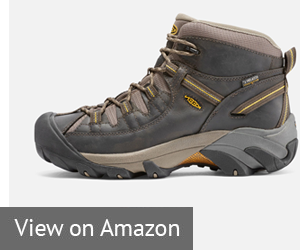 The KEEN Men's Targhee II Mid WP Hiking Boots are one of the best hiking boots available for people with flat feet.
They are made with waterproof leather that works along with the hydrophobic mesh lining for amazing durability and breathable comfort. The waterproof technology keeps the water out.
The outsole has aggressive lugs that grip to many different terrains. They are comfortable for anyone wanting to be in the outdoors.

Pros
Made in the USA or imported
Rubber sole providing traction
They have a breathable leather lining
Made with high-quality leather and textile materials
9. KEEN Targhee II – Best Quality Woman's Hiking Boots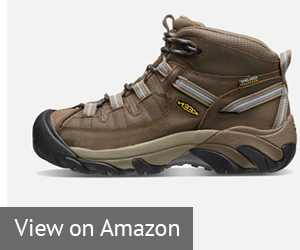 The KEEN Women's Targhee II Mid WP Hiking Boots are one of the best hiking boots available for women with flat feet.
These boots are made with waterproof leather and hydrophobic mesh lining for great comfort, breathing, and durability. It keeps water out whether you are walking in wet areas or are hiking in the rain.
The lugged outsole helps you to grip to many different terrains. They are able to deliver all-day comfort while out hiking.

Pros
Made in the USA
Materials are high-quality leather
Rubber soles are great for traction
Waterproof membrane to keep your feet dry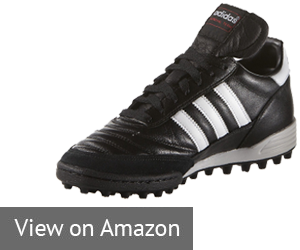 The Adidas Performance Men's Copa Mundial Soccer Boot is the best soccer boot for people with flat feet. They are the most popular soccer boots that are available.
They feature a leather upper that has a great touch and fit. They feature a dual-density outsole that for decades has set the standard for comfort.
Boots are crafted with a full-grain leather upper and an outsole that is durable and firm.
Pros
Made with imported high-quality leather
Sole made with synthetic material
Upper made with leather
Comfortable synthetic lining
Outsoles are durable for wearing on firm natural ground
Boots For Flat Feet Buyer's Guide. Things to consider
Here are some of the things to look for when looking for the best boots for flat feet:
Arch Support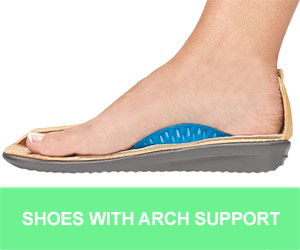 Having good arch support is important for people buying them with flat feet. Boots that don't have good arch support will lead to you having fatigue and pain in your feet. The correct arch will help to distribute weight across the entire foot helping to relieve the pain that arises.
The ones with well-supported arches help with supporting tendons and ligaments found between the front of the foot and the heel. This allows you to do more walking without any issues of pain arising. Arched shoes are generally narrower so you may want to purchase a pair that is wider than you are use to.
Ankle Support and Structure
Having flat feet is known to cause your feet to roll inwards more than they should. When wearing boots for prolonged periods of time on uneven surfaces you may become injured. Wearing boots with good support for the ankles and with a good structure can help reduce these injuries from happening. Choosing this type of boot will help you to avoid twists and sprains.
Comfortable Footbed
It is key to have a comfortable sole when picking a boot for your flat feet. Your feet become tired more quickly. It's important to find a boot that offers a thick padding in the footbed while still having good structure and support.
Quality Materials
Make sure that you spend your money on a pair of boots that are made with durable and high-quality materials. These will help them hold their structure while offering the best support. A cheaper pair of boots won't last as long and will cost you more in the long run. If you are going to be wearing your boots a lot it is worth spending the extra money to get a better boot that will last longer. Leather and high-quality synthetic materials will work the best for your foot problems.


Now that you know what features to look for to accommodate your flat feet you should have an easier time finding a shoe that fits you better.
Hopefully, this buyer's guide and reviews of the best boots available for flat feet helped you to understand what you need out of a boot. By picking a pair with arch support, ankle support has a comfortable footbed, and are made of high-quality materials you will get a pair that will last you longer and be more comfortable. Find the pair that best suits you and your special feet.