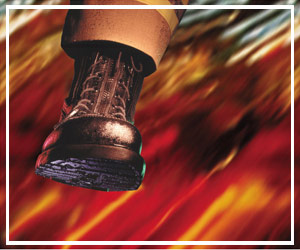 When out in the wildlands fighting fires, the last thing you need to worry about is your footwear. Thankfully, there are numerous brands out there all designed to keep your feet safe and comfortable when fighting fires in the brush.
However, different brands focus on different qualities and not all are best suited for each individual. A fire watcher is liable to prefer a boot that is more comfortable than one who stands a dozen yards from an inferno fighting the blaze.
That is why we have put together a list of the 10 best wildland firefighting boots. Then, we provide a thorough buyer's guide so you can identify which qualities of fire boots are best suited for your needs.
Top 10 Wildland Firefighting Boots Comparison Тable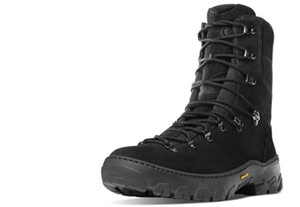 Danner is one of the premier fire boot manufacturers and is often considered the best in the business alongside White's boots. However, the two companies take a fairly different approach to what their boots provide the wearer.
Danner boots focuses more on protection and comfort rather than long term durability. This is not to suggest that White's boots are uncomfortable or that Danner's are poorly constructed, but the two premier brands distinguish themselves on these categories.
Danner boots meet the highest standards of heat resistance — one of the few on our list to do so. Moreover, these boots are exceptionally breathable for such a fire resistant product. The comfort is further stressed with a relatively lightweight design.
However, the boots are not constructed with a goodyear welt and will wear out quicker than some of their competitors. Moreover, the laces do not necessarily tighten to the satisfaction of some of their customers.

Pros
One of the lighter pairs of boots on our list at 4.3 pounds
Meets the most recent edition of the NFPA standards
An exceptionally breathable boot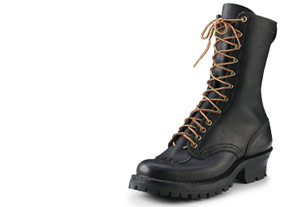 Including of Danner boots, White's is considered the best fire boot manufacturers in the world. Moreover, White's places a premium value on durability and the ability of the user to extend the lifespan of the boot by making it completely rebuildable.
Unfortunately, the comfort of White's boots is a bit of a mixed bag. For instance, these boots are tied for the lightest pair on our list at 2 pounds. However, these boots also have a relatively lengthy break-in period which can lead to sore feet for weeks until they mold properly.
Moreover, the arch itself is not truly designed to be "broken in," and may cause discomfort for flatter footed wearers for the duration of ownership. However, this arch support and the well-crafted construction does provide one of the more secure fits out of all the products on our list.
Pros
Tied for the lightest pair of boots on our list at 2 pounds
Incredibly durable leather and construction
Completely rebuildable, extending the total lifespan of the boots
Scarpa may not have the same name recognition in the fire boot market, but the company is already well-known in the hiking boot market. As such, it is a relatively easy transition for Scarpa to apply their manufacturing techniques to the boots that are rated for NFPA standards.
This leads to a boot that can boast some of the best ratings in many of the top priority qualities consumers look for in fire boots. For instance, the single-piece construction and properly molded design allows the Scarpa's to offer one of the most secure fits that also provides exceptional stability.
However, this is countered with a trade-off in comfort. Specifically, the incredibly stiff design, which is even too stiff to be bent by hand, which can make them fairly uncomfortable even if stable. Moreover, the boots are heavier than average which only contributes to wearer fatigue.
Pros
One of the more stable boots on our list
The single-piece construction in incredibly durable
Provides one of the best fits out of any product on our list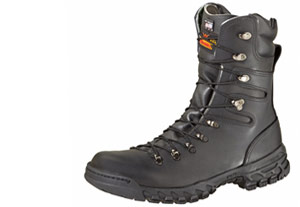 While not always mentioned in the same category as Danner or White's, Thorogood is another fire boot manufacturer that has a longstanding reputation for producing some the highest quality fire boots available. However, these boots follow the Danner model if anything.
The Thorogoods are designed with a single-piece construction that is also relatively flexible. Unfortunately, these boots are not goodyear welted, and the cement has been known to come undone after extensive use over a relatively short period of time.
Still, the comfort of the boots will not be immediately apparent as they do require a somewhat lengthy break-in period. Moreover, the absence of eyelet lace enclosures can cause upper-pressure points that some find uncomfortable.
Pros
A relatively inexpensive fire boot
Once broken-in, these are exceptionally comfortable boots
The triple ribbed logger shank provides excellent stability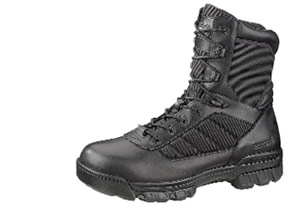 To be perfectly frank, Bates boots are not intended to be used for firefighting. This statement probably goes doubly so for wildland firefighting. The reason for this is that they are not at all NFPA certified.
This means that the Bates boots should likely be seen as a secondary pair of fire boots and not the model used during the heat of the moment. Thankfully, the fairly low cost of these boots compared to other brands on our list makes them ideal for that purpose.
Moreover, these boots are designed with the hiker in mind. As such, while they may not be heat resistant, they are incredibly comfortable and do not require the lengthy break-in period that many other fire boots on this list demand.
Pros
Less expensive than many of the other products on our list
One of the more breathable pairs of boots on our list
Fairly comfortable with short break-in period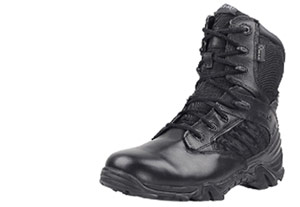 This model of Bates boots is similar to the previous product in almost every way — in terms of features and qualities. Much like the previous Bates boots, this product is not rated for NFPA heat resistance standards and should be seen as a secondary pair of boots.
Thankfully, much like the other pair of Bates, these boots are also somewhat inexpensive — especially compared to the other brands on this list. Moreover, this pair of Bates is waterproof giving it a slight edge over the Tacticals.
Also like the previous model, this pair of boots are still exceptionally breathable as well as comfortable with a short break-in period. However, much like the previous model, these boots will not stand up to constant stress for extended periods of time.
Pros
A fairly inexpensive options comparatively
One of the more breathable pairs of boots on our list
Fairly comfortable with short break-in period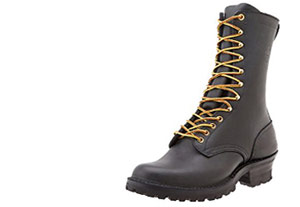 Despite the name, Hathorn is actually a different model under the White's brand. As such, consumers should expect the same type of quality that comes with White's boots. Unfortunately, this means consumers should also be aware of the same type of pitfalls as well.
In fairness, the Hathorn brand is basically the more affordable model of White's boots. However, this does not mean that they are "budget" nor does the quality suffer to the point that they are a poor value. For instance, the same construction, weight, and rebuild-ability can be found in both brands.
However, the same issues with the leather shank not being as comfortable — especially for flatter footed wearers continues. The break-in time with the Hathorn is similarly long. Moreover, the Hathorn's actually fit smaller than expected — more so than even White's.
Pros
Tied for the lightest pair of boots on our list at 2 pounds
The goodyear welt construction provides plenty of durability
The entire boot can be rebuilt to extend its lifespan
Continuing to provide quality at a lower price, Thorogood makes another appearance on our list. However, this time, the brand's offering is more in line with the Bates than the other Thorogoods. Specifically, these boots should be seen more as a secondary pair than the primary fire boots.
The reason for this is simple: these boots are not designed to be as fire resistant as primary boots should be. However, unlike the Bates, these Thorogoods do at least offer some legitimate fire resistance. They just should not be used for frontline firefighting.
However, if comfort is your goal — which is generally the case for a secondary pair of boots — the Gen-Flex have you covered. The inner sole is designed to absorb up to 300 pounds of force which is ideal for running in uneven terrain with a heavy pack.
Unfortunately, you may not be able to make use of that comfort for long as they are also noted to wear out rather quickly — especially if used extensively over a short period of time. Moreover, while they are exceptionally comfortable, they give more during the break-in period and may end up providing up to a size more space than when initially worn.

Pros
A fairly inexpensive option in a generally expensive product category
Provides some of the best inner soles on our list
Has a fairly quick break-in period, especially compared to other boots
Our final Thorogood is more in line with the first offering of this brand on our list. However, this Thorogood seems to favor the White's approach to fire boots rather than the Danner approach. Specifically, these are the most resistant boot Thorogood offers on our list.
Not only are the boots water, heat, and puncture resistant, they are also certified to be resistant to blood-based pathogens. This is especially relevant if your wildland firefighting duties require you to administer first aid to casualties of the blaze.
However, all of this protection does come at a cost of comfort. While the boots are not necessarily uncomfortable in the traditional sense, they are fairly heavy which increases fatigue over time. Moreover, they are one of the least breathable pair of boots on our list.
Pros
Generally less expensive than its competitors
A composite safety toe will prevent heat transferral
Exceptionally resistant including not just heat, water, and puncture, but pathogens as well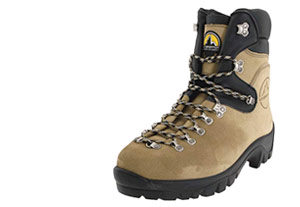 La Sportiva may not be a well-known brand outside of the industry, but firefighters are well-acquainted with them as they are often some of the standard issued models. However, for this offering, La Sportiva provides a boot that is intended to serve double duty as both work boots and play boots.
Essentially, these boots are certified by NFPA heat resistant standard but are also designed to be used as a hiking boot. This means the boots are exceptionally comfortable, though they do have a relatively lengthy break-in period.
Moreover, you will need to get the closure organized ahead of time as lacing them can be a time-consuming process. Thankfully, once you have them set to your specification, they offer a fairly good level of stability and traction.
Pros
One of the more reasonably priced pair of boots on our list
Are extremely comfortable once broken in
Outsole is tested to resist temperatures up to 572 degrees
Wildland Firefighting Boots Buyer's Guide. Things to consider
Materials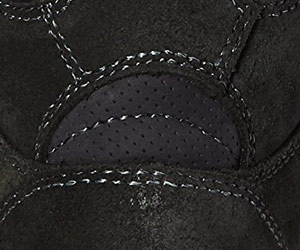 Unlike other forms of footwear, fire boots do not come in a range of different materials. This is largely due to the physical necessities of the job: fighting fires is difficult and dangerous — not only to the people doing the job but to all of their possessions and clothing. As such, fire shoes need to be made of fairly durable materials that are naturally difficult to burn.
In this regard, most fire shoes are made out of one of two materials: rubber or leather. For a long time, rubber was the preferred material for fire shoes because it is exceedingly difficult to burn. Instead, rubber will often melt well before it burns, and if it is exposed to high enough temperatures for a long enough amount of time, the wearer has other problems to worry about.
However, rubber comes with numerous issues that make it less than ideal as the bulk of a footwear material. For one, rubber is incredibly heavy compared to other footwear material in general and leather in particular. Moreover, rubber is also fairly inflexible which decreases the boot's overall traction and support. Finally, the excessive weight of rubber makes comfort an issue when fighting a fire that rages for any extended period of time.
Altogether, rubber is actually a poorly suited material for firefighting and has been shown in more than one
study to contribute to accidents on the job
. The alternative to rubber is leather, which is generally a better material for fire boots in almost every conceivable way except one: price. However, when your life is on the line, you do not want to take a gamble simply to save a few bucks.
Resistance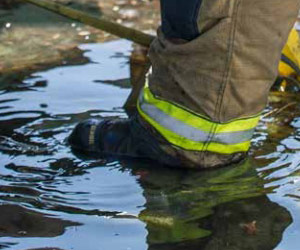 This is the most important factor to consider when selecting fire boots. If the boots did not need to resist the elements to serve their function, firefighters would just buy whichever type of footwear they desired. However, due to the extreme conditions and temperatures faced, fire boots need to resist the elements well.
Still, this is not merely limited to resisting fire and extreme heat in general. Considering that firefighters most commonly use water to combat raging infernos — with sand also being used, but only dropped from great height by aircraft — it is important that fire boots also demonstrate a high degree of water resistance, if not water proofing.
Moreover, considering that firefighters will be employing the water at close proximity, the boots will need to be able to handle the rapid shift from hot to cool as the fire heats the boot's material and the water immediately cools them off. In this way, the boots can crack due to the rapid shifting of temperature if they are not properly treated to resist exposure.
Another resistance that will not come up as often with wildland fire boots but is vitally important when it does is electrical resistance. If power lines fall and live wires are active, electricity can be transmitted through water or other mediums — even if the wearer never comes into direct contact with the wire. In this case, the boots are best served if they are rated as static dissipative.
Finally, the toe of the shoe will oddly play an outsized role in its resistance. Specifically, is the shoe made with a steel or composite toe? The better option is the latter with composite being just as strong as steel while also not conducting as much heat. However, composite toe fire boots are also more expensive.
Comfort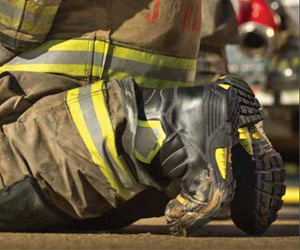 While not often seen as the most important factor when selecting fire boots, the comfort should be understood as providing more than easy wearability. Granted, longtime firefighters will certainly seek out comfortable boots for personal reasons, but comfortable fire boots should be a priority for safety reasons as well.
In the previously mentioned study, one of the major sources of injury to firefighters came from tripping. These accidents were directly related to the weight of the boot, with heavier boots involved in a higher incidence of falls. As such, a lighter fire boot, which is inherently more comfortable than a heavier one, is also safer.
Moreover, leather fire boots are not only lighter than rubber ones, making them more comfortable on one end, but more flexible as well. While this additional flexibility offers a few advantages, one of the subtler ones is that it forces the wearer to use less oxygen while walking.
Quite simply, a more flexible boot requires less energy to walk in which allows the wearer to use less force. This reduction of force then translates to less of a need for more oxygen and keeps the wearer fresh longer. Ultimately, a more comfortable fire boot allows the wearer to work harder, longer without becoming winded and subject to making a mistake or having an accident.
Support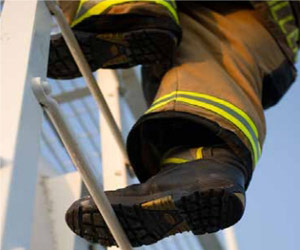 While this factor is related to the following in the list, traction, support relates more to the fire boot's uppers, while traction is an outer sole issue. Still, these two qualities work hand in hand to help keep the fire boot not only comfortable but safe as well. Of course, comfort is related to safety, as previously mentioned, so these two factors work synergistically in a few ways.
Regardless, the support of a fire boot will often hinge on its construction and be defined by how well it secures the wearer's foot and stabilizes the ankle. This job is even more important for a wildland firefighter where the often uneven terrain can lead to sprains and falls if the ankle is not properly stabilized.
In terms of the construction, there are generally two methods, sewn and welted, though all fire boots will use the first one. However, the use of a welted construction will not only provide additional stability, it will also provide additional durability.
The other factor in regards to support involves the fire boot's closure. Most, if not all, fire boots use laces, but the way those laces are secured differs. Generally, eyelets are seen as superior to hooks and loops because there is no risk of the lace coming loose from its point if the hook or loop falls off.
Traction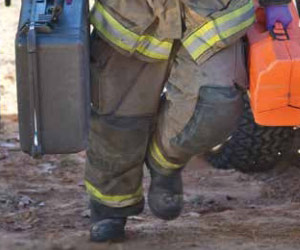 Fire fighting is a difficult and dangerous enough job as it is without throwing unstable footing into the mix. Even if the fire boot is light and flexible, falls can still happen if the traction is subpar. For station and turn-out boots, this is relatively easy to prevent. However, for wildland fire boots, extra factors must be considered.
For instance, all types of fire boots need outsoles which are slip resistant. When working with gouts of rushing water, a smooth surface can cause a tumble without slip resistant outsoles. However, in the wildlands, the wearer must not only contend with potentially slippery surfaces, but with incredibly uneven terrain that may be dissolving as well.
Because the ground will often turn to mud over the course of battling the blaze, wildland fire boots need an outsole that will simultaneously not get stuck or slip once mud is caked. While an absolute solution for this balance is impossible, different types of tread and outsole materials can be more or less effective towards this end.
The flexibility of the fire boot in general, and outsole in specific, will also play in an important role in the boot's traction. Unlike the manufactured surfaces station and turn-out boots are liable to walk over, wildland fire boots will need to flex so that they can maintain their traction over uneven and potentially rocky terrain that could also be slick with mud or water.
Conclusion
As we can see, different boots favor different philosophies. While some may provide a better overall value, none of them are without a legitimate place in the market — it simple depends on what the consumer requires.


For the heavy-duty firefighter who stands toe-to-toe with a blazing inferno, Danners, White's, or La Sportivas are likely your best bet. They are designed with frontline firefighters in mind, though they do differ in terms of durability versus comfort.
If you are a support firefighter or simply used in a "swiss army knife" role, it might not be a bad idea to opt for a lower cost pair of boots that may not provide the same level of heat resistance as the premier brands but are often designed for comfort to the extreme.