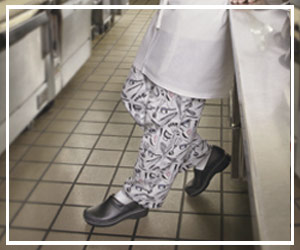 Waitressing is a fast-paced job that also requires us to be light on our feet. Often it feels like you're racing with a ten-pound tray at the end of the day. So many of us go home and have to soak our weary feet after work, but others aren't even so lucky.
Our feet take a lot of abuse and really help us do a great job day after day, so instead of foot soaks, it's sometimes better to invest some money in high-quality, comfortable shoes that ease the stress we put on our feet and let us continue to use them after work.
Also for Waiters
We've gone over some of the best shoes for women in the restaurant industry, but men have feet too and can get super-achy, too, especially after carrying trays all day. Men often have a few different needs than ladies. For one thing, they have much larger feet and often have wider feet as well. However, that doesn't mean that shoe manufacturers have overlooked men in the restaurant industry when it comes to style and comfort. There are several pairs of shoes that can handle the wear and tear that comes with restaurant work, and each option offers waterproof features as well.

We've chosen the best of the best for this article, hoping that you can find the comfort you need that fits your budget as well. If these shoes don't fit your style, there are much more on the market to choose from. Just make sure you read your reviews and do your research or you may end up sending them back.
Top 10 Shoes for Waitressing Comparison Тable
Best Shoes for Waitressing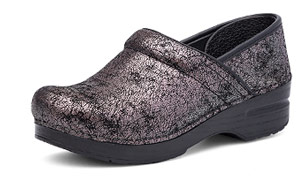 Waitressing is a lot like nursing in more ways than one; you're taking care of people's needs, and you're always on your feet. That's why it's really no surprise that the favorite shoe of nurses is also the top recommended shoe for waitresses. The Dansko shoe is known for providing no-slip comfort for those of us who are always on our feet.
Dansko is primarily known for their comfortable clogs that are meant for constant on-your-feet wear. This professional mule also matches most outfits very well, giving you the feel of a pair of high-end athletic shoes but the look of professionalism when you're on the move.
Made of real leather, there's over 4 dozen different designs/colors to choose from, giving you the option of purchasing a few to match your favorite work or play outfits! That's a lot of styles to choose from.
Cons
The price may be steep depending on the style you choose
These are nurses shoes, which can still look drab and boring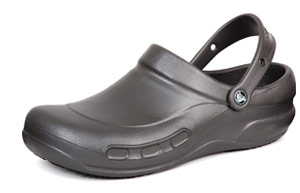 This Crocs Bistro Clog is a great choice for those who love the summer shoe. It's built tough for comfort and takes a lot of "abuse" – at the very least, it will last about a year without wearing the treads down. In fact, this particular shoe was built with waiters and waitresses in mind, which is why it was built so tough.
This pair of shoes is also great if you work at a restaurant with an outdoor bar or patio. As you're probably aware, pavement can quickly wear the treads off your favorite pair of shoes, making them a hazard when you're going back and forth to the kitchen and switching from indoors to outdoors. These Crocs just won't do that – and there are a ton of reviews on Amazon that agree with this statement.
These Crocs are great for working in settings with large seating arrangements that send you back-and-forth to different floor textures and are priced affordably enough that you can buy a couple pairs to match the outfits you're wearing.
Cons
Of course, Crocs have gotten a bad rap in recent years, so you may be wary of wearing Crocs at work.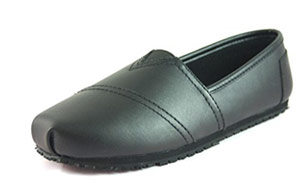 We don't like to admit it, sometimes, but the busiest restaurants are often the messiest, especially those places that have a busy bar service late at night. Drinks splash, cooks splash, dishwashers splash, and water often ends up all over the kitchen floor on some of the busiest nights of the weeks.
These shoes help you be a contender and always remain upright, no matter how sloppy the mojitos or whatever-that-is that's been splashed on the floor. If you're not as graceful as a ballerina when you go to and fro to the kitchen, then these shoes can help you keep your balance.
They're built to be both water and grease-resistant, whether you're walking on top of a slick surface or getting your shoes splashed by something wet.
Cons
Cheaply made of rubber
May tear or crack easily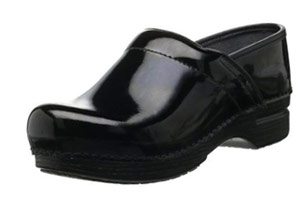 This shoe is great for an upscale restaurant, offering both a great-looking shoe and the comfort you need to keep going all day no matter what. This shoe, like all of Dansko's offerings, is built to fight fatigue and cradle your feet in comfort.
Leather with a synthetic sole, these shoes are both stylish and comfortable, ideal for waiting tables, nursing, bartending and other on-your-feet professions.
This pair of Dansko shoes may run a bit small, however, if you order a size up you should be able to find the perfect comfort. When you're on your feet all day, you may notice your feet swell and then go down.
By ordering a slightly larger size you can make room for those days where your feet feel a bit swollen. On days your feet feel fine, it's easy to compensate with a thicker sock.
Cons
May be out of your price range
Few colors and styles available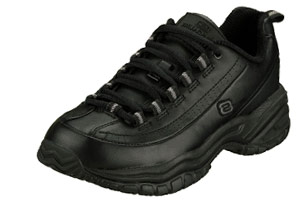 These Skechers really mean business, and that's a good thing! These stylish athletic shoes mean that you'll never slip while you're at work, and on days of rest, you can wear the same shoes comfortably. Skechers is a reputable brand that always makes women's shoes that can match your favorite clothing – although this particular style is black to match the standard restaurant outfits, offering either black or white.
There's more to this shoe than just non-slip capabilities. These shoes are built for hard work and have some safety features that will protect your feet as well. A built-in steel toe keeps your feet safe, and the shoe is also built to protect you from accidentally electrical contact.
These shoes also come in wide sizes, which are often difficult to find when you're looking for shoes that are built to last. A pair of these shoes can fit almost any restaurant outfit and will be great for a day off just doing errands, too. They're said to be very comfortable and priced affordably for any budget.
Cons
Some people who have worn this shoe have complained of foot pain from arches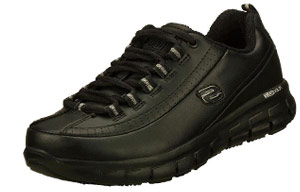 Similar to the previous shoe, these Skechers, too, feature a safety steel toe and are built to prevent electric accidents. Made from leather with a memory foam insole, these shoes are meant to cradle your feet in comfort and absorb the shocks to your feet that come from a lot of twists and turns.
Many people who have worn this shoe say that it's prevented foot swelling and they've made it through 8-hour shifts without the normal aches and pains.
These rugged work shoes also have hidden vents to cool your feet on the side, which is a bonus for those of us who struggle with foot issues such as athlete's foot. Like the previous pair of Skechers reviewed here, they are available in wide sizes.
Cons
Like the previously reviewed Skechers, this shoe may not fit your foot well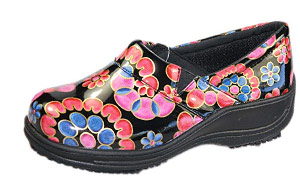 If it's important to you to have a bit of fashion in your everyday life, these shoes might be the perfect fit.
Want to stand out from the crowd? You may want to try these Laforst® clogs, which look more like a fancy slipper than the hardcore work shoe they can function as. These shoes come in three different floral designs, offering a break from the drab black or white work uniform so many of us wear from day to day.
Just because they look great doesn't mean they don't have the function as well as form. The genuine leather upper makes the shoe water-resistant, while the inner sole provides soft, shock-absorbent comfort that rivals even the best pair of tennis shoes. Made with the restaurant industry in mind, these shoes are built to be slip-proof and endure hours of daily wear.
So if you're looking for something a bit different and stand out next time you got to work, this pair of shoes may be just the thing you need to make a great impression without sacrificing foot health.
Pros
Memory Foam cushioned comfort insole
Offers cute floral styles
Cons
Big shoe for those with narrow feet
May not last as long as other work shoes
Best Shoes for Waiters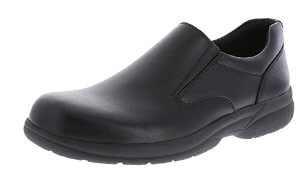 This shoe is a favorite of bartenders and waiters alike. After all, what's a better way to stay "splash proof" than eliminating soggy shoelaces? A lot of thought went into making these shoes as functional as possible.
This shoe is made of leather and rubber, so water, oil, and other hazards of the kitchen bounce off like water on a duck.
That safeTstep made shoes for the food and service industry. What's more shocking is the price for these shoes.
Pros
Super lightweight EVA midsole
Priced to meet a tight budget
Cons
Runs a little bit under sized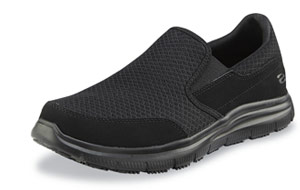 Like many Skechers shoes made for work, these shoes mean business. These shoes are hardy, built with both a composite toe and a steel toe built in. The slip resistant sole is great for conditions in and out of the kitchen, and deep treads wear out slowly no matter which surfaces you're working on.
There are no shoelaces to get wet or damaged while wearing this shoe, and the mesh fabric upper is great if you're moving around a lot and need flexibility in your work shoes. (For example, standing on your toes to reach certain shelves.)
While not waterproof, these shoes are water-resistant, which means that a few splashes here and there won't wreck the shape or pull the shoe tighter.
While it appears from the photo that the shoe has a heel, these shoes are very comfortable with the memory foam insole, which will keep you comfortable on even the longest shifts.
Cons
Not waterproof
Some wearers have said they wear down and cause foot pain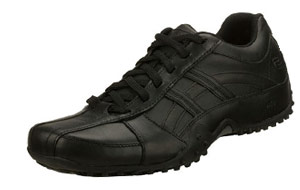 Looking for something more than a shoe that simply feels good while you're working?
These Sketchers offer men a stylish shoe that also has a lot of utility, with both a small steel toe and a comfortable leather upper. These are the shoes that will help you look good while working hard, featuring a splash-resistant exterior. Reviewers like this shoe because it seems to last a long time without a lot of wear and tear, even when working in a wet environment such as a kitchen.
These shoes offer a removable cushioned insole that you can replace with your favorite orthotics if you have foot issues or simply if the insole gets a little flat with extra wear and tear. The grippy rubber outer sole and heel work well in slippery conditions and will serve you well in restaurant work, whether you're indoors or outdoors.
Pros
Wide sizes available
Made for orthotic use, too
Good in wet conditions
Cons
May not be true to size
May wear out faster than other shoes
Shoes for Waitressing Buyer's Guide. Things to consider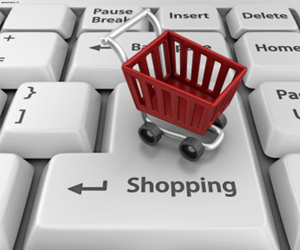 Buying shoes online is still a relatively new to shop. Less than 20 years ago, the best way to shop for work shoes of any variety was in-person at a retail store. This was usually quite a pain. If you're from the younger generation, you may not have had this buying experience.
Back then, a retail clerk would wait on you. You would choose 2-3 styles of shoes you liked, and they would go to the back of the store and search for the shoes. If they didn't have your size, they would often come back with a similar pair of shoes in your sizes or bring you the next size up or down.
Once they located your selections, you would painstakingly try on each pair of shoes and so a walk around the store to see if they were too snug or if they fit. If you had an odd size, such as wide feet, it could take hours to find the right pair of shoes.
Today almost everyone buys at least one item of clothing or shoes online every year. It's easier to find the size you want, but it's harder to predict if that shoe size will fit you well. There are a lot of little quirks like this when it comes to online shopping, however, with the right guidelines you can find the shoes you love, in the size you want.


Tips in mind while shopping
Keep these tips in mind while shopping, and you'll be much likelier to find the shoes you want in the right size, every time you shop online.
Part 1
Make sure the vendor you're buying from has a good reputation. If you're buying on Amazon, make sure you pay attention not only to each product's reviews, but also the reputation of the vendor.
Check return policies and shipping information. Don't be taken in by vendors who say they ship between 7 and 15 days – they are usually closer to the latter. On Amazon, Prime is the safest way to ensure quick shipping.
Make sure that the shoe has clear images. Usually, this will mean different angles in the photo representation, and images that clearly show the different colors or patterns offered as well. Remember that colors will look different on different monitors, so they will rarely be exact.
Know if you need orthotics. Some of us have oddly shaped feet or foot problems from working that only orthotics can help correct. Buy a size up if the insoles aren't removable, and familiarize yourself with which orthotics work best with your feet. This will save you many headaches – as well as foot aches – in the future.
Part 2
Examine the materials, too! Just because a shoe looks like leather, it may be fake leather, such as PU leather. Shoes may appear to have a rubber sole but actually have a cheaper plastic, which will wear quickly and offer little in the way of tread.
Size is very important, so take the time to understand each manufacturer's size. If not available on the website you're shopping from, you can find sizing information on the manufacturer's website and there's usually a size indicator that you can download and use to determine your size before you place an order.
When you measure your foot, do both feet. Humans are not normally perfectly proportional, although we think we are! Usually, you will have one foot that is larger than another. Choose the larger size when you place your order.
When your shoes arrive, try them on right away. Even if you don't plan on wearing them for a little while, this is the most important to take once they arrive. If they don't fit, send them back right away. Many vendors have a time limit of fewer than 30 days on returns, while others need time to send you a "call slip" to help you pay for return shipping.
More
These are just a few tips to help you when you're buying shoes online. Of course, you should also choose shoes built to fit your lifestyle, especially if you wait tables and have to deal with achy legs and feet as a part of your job.
We know how hard it is to find a tough shoe that supports your feet and looks good, too. The reviews below will help you learn more about how each shoe can fit your lifestyle. We hope you can find a shoe style that you love! Each shoe has been chosen with restaurant industry workers mind, with a specific focus on those of us who wait tables.
No matter what shoe you wear to work, make sure it's comfortable and does no harm to your feet by the end of the day. There are dozens of great shoes built for the hard work of waiters, waitresses, and bartenders in restaurants. Take your time to try out a few if you're not sure. Most vendors will let you send back an ill-fitting pair of shoes, no questions asked.