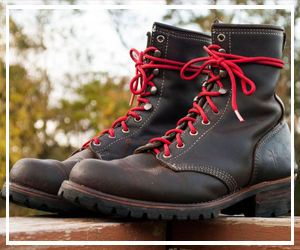 Logging is seen as one of the most dangerous activities in most parts of the world, which is why safety gear is very crucial. Even the seasoned veterans can tell you the importance of wearing safety gear when logging. This means best logger boots should be on top of your shopping list.
You see, wearing standard boots when logging can be dangerous. But why is this? Simply because they are not designed specifically for outdoor activities such as logging. In most cases, trees that are ideal for logging grow on high, steep hills. When in such places you will require adequate protection from any hazard that may come your way. In this article, we will discuss some of our top picks.
How did we come up with our list?
It is pretty tough to come up with a list of 7 logger boots that are protective, comfortable and durable at the same time, right?
To come up with our list, we had to conduct vigorous tests as well as detailed research on the logger boots available in the market. We tested them in tough outdoor and indoor environments in demanding conditions so that we could get only the best.

We mainly focused on the features we discussed earlier and are confident that the boots reviewed in this article are the toughest and most comfortable boots in the market.
Top 7 Best Logger Boots Comparison Тable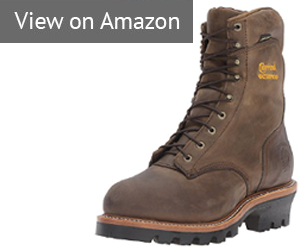 Having more than a decade's experience, Chippewa claim to use only "the most innovative technology, the best construction techniques and the best materials" – and Chippewa Men's 9" Waterproof Logger Boot is a perfect example of this statement. Chippewa Men's Steel-Toe Logger Boots also known as "super logger" are arguably among the best logger boots on the market today.
These boots are designed with a top-notch feature to enhance comfort. The Chip-a-tex waterproof membrane keeps your feet dry by locking out water but it still allows air to pass through for maximum comfort. On the other hand, it's Rubi Dry-Lex 2000 lining continuously removes moisture build up that may be as a result of sweat.
The super loggers are tough, heavy, 9" boots that incredibly have a small break in period. They are comfortable and require only a few hours of light wear for you to get used to wearing them. They feature a removable orthotic insole that is washable. It's also a good idea to apply waterproofing wax/cream to protect your boots.
One of the safety features is a triple ribbed steel shank for enhanced ankle protection and a safety toe protection.
They also have the Vibram outsole, which is electrical shock rated and maintain its physical properties even in cold weather. Its exclusion compound increases traction on various terrains including wet surfaces.
They also incorporate the use of leather welt construction- a feature reserved only for the toughest boots. Just like all logger boots, the super loggers are designed to last. These boots are ideal for steep terrains.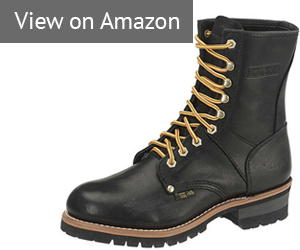 The AdTec Men's 9' Logger Boot might be a good bet if you are in need of a quality logger boot but are running on a tight budget. Contrary to what you would expect from a low priced boot, the AdTec Logger Boot is of high quality and guarantees value for your money.
Working in the woods can be dangerous at times because you can slip and fall at any time. Adtec minimizes this risk with soles that don't slide on slick or oily surfaces. The speed- lacing hardware is yet another cool feature in this model due to its user friendliness. It allows you to wear your boot quickly without wasting time tying the laces.
Being an economical logger boot, the AdTec Logger Boot has an all leather construction but with no liner. The lack of a liner is handy for those who tend to sweat a lot.
AdTec boots are quite durable; the thick rubber sole and leather upper comes in handy when traversing the woods. The can last for long, and the smart design allows for an incredible grip on almost all surfaces. They are recommended for slippery terrains.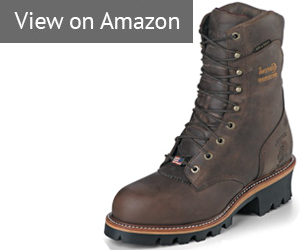 These Chippewa Men's Logger Rugged Outdoor Boot combine the classic design with new materials to ensure comfort and protection for your feet.
The Chippewa Outdoor Boot meets the standard protection and safety measures. Its features include Bay Apache Waterproof Leather, Goodyear welt construction, Ruby Dri Lex 2000 lining and a Triple ribbed steel shank
These boots are waterproof and have an additional liner to keep your feet dry and allow for air circulation. The Goodyear welt construction and the Vibram outsole offer a sturdier platform to work from. They have Texon 460 insoles to offer additional support and cushion. They also feature 400 gm of 3M Thinsulate Ultra, which is breathable, lightweight and moisture resistant. Overall, these boots are very comfortable.
Keeping your feet dry and safe is the main goal of this outdoor boot from Chippewa. Thanks to a triple-ribbed steel shank, a full leather upper and a non-slip lug outsole, the Chippewa outdoor boots provide maximum protection.
These boots are designed to work on almost any surface; they offer good traction and stability even on wet surfaces. The use of antique brass hardware and heavy-duty wax laces increases the durability. Its performance is seamless even when the job seems difficult. Being the best all-round logger boot, it is ideal for most outdoor activities.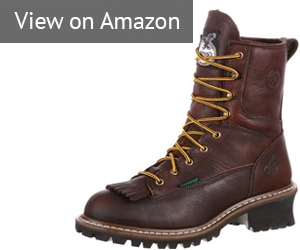 The Georgia Boot Men's Loggers G7313 Work Boot is more of a standard work boot. However, it is specifically designed for outdoor use in tough terrains making it ideal for loggers. Its key features include Georgia Waterproof system, Steel shank, Full grain leather and Removable brush guard kiltie.
Although they take about one week to break in, the G7313 are quite comfortable and stylish. Its rubber outsole effectively absorbs shock thus improving comfort. Its rubber sole is designed to reduce stress on your feet as you walk and allow for a smooth transition through every step. It is also equipped in such a way that it makes the footbed softer, which is ideal for working or standing all day.
These boots are designed with safety as a key feature. The outsoles will protect your feet against slips & hard falls. The uppers are 100% leather, waterproof with quick lace up ability. Their steel toes provide sufficient protection for your feet. They will also give you a good grip on the surface such that you can walk on a wet surface without the fear of losing your footing. Georgia Boots provide sufficient traction even when moving heavy objects.
Georgia Boots ensure that each time they produce a better design than the previous. Their boots are highly durable and can resist wear & tear for long. It is designed for use in extreme conditions, and with this, you are sure that your boot will last long. It is ideal for loggers seeking boots with the highest level of comfort.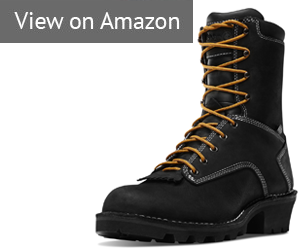 Out of its numerous products, the Danner Logger Men's Work Boot is a masterpiece with features that are second to none.
The velvet-like nubuck oiled leather upper is designed to improve water resistance in your boot. It offers a more comfortable and shorter break-in period. Being 100% waterproof, it keeps the water out while still allowing circulation of air in your boot. This ensures that your feet are comfortable and dry all day long.
Its ultra thin insulation ensures that your feet are warm when working in rain or snow. It also reduces the chances of the snow or rain weighing you down. It is manufactured in the industry standard thus made true to size. Its relatively broad, deep toe box gives sufficient room for your forefoot and toes. Its lightweight Bi Fit board increases forefoot flexibility and heel rigidity.
It is manufactured with non-conductive electrical shock resistant heels and soles. It is 100% waterproof with quick lace up ability. The high-performance insulation ensures that your feet stay warm even in extreme conditions. The Vibram 360 logger provides you with superior traction and substantial edging.
Danner loggers are designed for use in rough outdoor conditions, which means that durability and safety are their top priority. It is ideal for loggers who want to look good even in their workplace.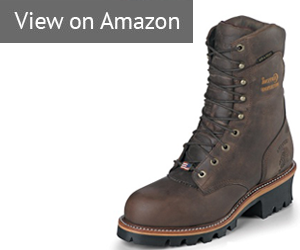 Chippewa Men's 9-Inch Bay Apache Chippewa Men's 9″ Bay Apache WP Steel-Toe Super Logger Boot are handcrafted boots that retain the vintage look but offer modern durability at the same time. They are crafted using premium materials to ensure their quality.
This Chippewa boot features a secure lace-up shaft that has a speed-lace hardware at the top and non-tarnish eyelets. Its steel toe protects your feet from conduction of magnetic charges.
Although these boots are very tough, they are also soft to ensure you feel comfortable throughout the logging process. They have rugged brown leather exteriors that feature the Chip-A-Tex membrane that keeps the water out and allows for sufficient circulation of air. The steel toe exceeds the set standards (ASTM F2413-11) for impact and compression.
These boots are designed to stand the test of time. Their classic style is designed to satisfy the needs of even the most choosy and demanding shopper. The use of premium materials ensures that the boots maintain top-notch quality and undisputed durability. These boots are recommended for professional loggers, as they will need durable boots to last them long.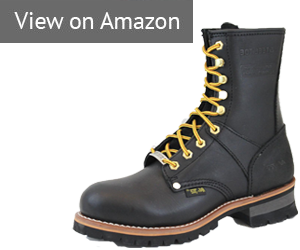 If you are working on a tight budget and still need a good logger boot, AdTec Steel-Toe Logger Boot could be a nice choice. It is affordable and is holds up well even in tough conditions despite its low price. This is a new brand in the market but that should not stop you from trying out these logger boots. It has decent features, which include Rubber sole, Oil-resistant lug outsole and Goodyear welt construction.
Despite being new in the market, AdTec tries to compete with the well-established boot giants by reducing their prices. This might be a red flag for many but if you try them out, you will be surprised to feel how comfortable they are. They hold up pretty well even in tough conditions and are ideal for standing or working all dirt.
This logger boot may not be the safest boot in this list but it does a good job protecting your toes when in the woods. Being cheap, AdTec boots hold up well in extreme conditions. These AdTec are best suited for loggers who are looking to save a few bucks on the price.
Logger Boots Buyer's Guide. Things to consider
Unlike standard boots, logger boots mainly focus on a few features. These features are important to loggers thus the manufacturers ensure that that they are perfectly done. These include:
Extra Traction – elevated levels of slip & oil resistance ensures that you get an enhanced grip even in extreme weather conditions.
A tall heel – a higher heel comes in handy when traversing unknown terrain.
Super comfort – since you will be spending long hours in your logging boots, improved comfort is an added advantage.
100% waterproof – the outside features water resistant leather while the inside is designed from a breathable material. While in the woods, you will need to stay dry, but at the same time, you will also require your boots to circulate enough air.
Lacing – considering that logging is carried out in the woods; you will require boots that with secure laces. It can turn out to be hazardous especially if your laces are caught in thorns or trees. Due to this factor, logger boots have secure laces with very little hanging off the boot after they are tied.
Durability – in most cases, logger boots are made from highly durable materials such as rubber and leather. You see, it's not always that leather is ideal for logging an example is when logging in wet conditions. In such conditions, rubber boots are better suited than leather boots are.
Tough protection- most loggers require the additional layer of protection in their boots to keep them well protected. For this reason, loggers require boots with safety steel toes to protect their toes in case a heavy load falls on their feet.
Frequently Asked Questions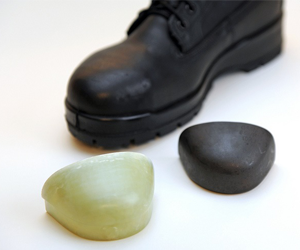 What's the difference between steel toe, composite toe and alloy toe footwear?
Essentially, toe guards are built to protect your toes from impact or compact injury. The specific safety standards and strength of the toe guards depends on company and its safety approvals.
Steel toe
Steel toe is the heaviest and least expensive of the three but it is said to withstand even the highest impact levels.
Composite toe
Made from non-metals materials such as Kevlar, carbon fiber or fiberglass and is considered to be more temperature resistant and lighter than steel.
Alloy toe
They are made from titanium, aluminum or a combination of light metals and are considered to be lighter than steel toe guard are. It offers more toe space as it can be designed to appear thinner steel.
Do Add-on Protective devices provide sufficient protection?
According to both ASTM and ANSI standards, protective toe caps are an integral part of logger boots. Therefore, add-on devices alone do not meet these requirements. While both ASTM and ANSI exclude add-ons, it does not necessarily mean that they are not acceptable to OSHA. ASTM and ANSI standards clearly state that the device has to go through independent data to show that it provides protection equivalent to that of ASNI requirements. If they are approved, then they are acceptable to OSHA.
What is an EE or D width?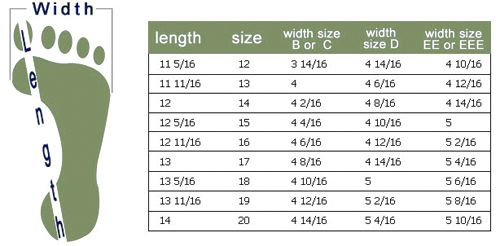 A "D" width is considered to be similar to regular width; for instance, if you normally order a regular width shoe then you should stick to a "D" width boot. On the other hand, an "EE" width simply means wide width; for instance, you are used to ordering wide shoes then an EE width boot could be a perfect fit for you.
What are the different types of outsoles?
The outsole is simply the part of your boot that touches the ground. Normally, the tread pattern ranges from smooth (shallow and wavy ridges) to very aggressive (hard & sharp-edged cleats) depending on the activity the boots are designed for. In most cases, outsoles are classified in four categories:
Vibram lug outsoles
Lug outsoles have hard rubber cleats and sharp outside edges for wedging or digging into hard surfaces such as clay, rocks or dry dirt. These types of outsoles are ideal for use in rugged terrains where grades are steep and conditions demanding.
Air Bob Outsole
These are dotted with round knobs, which have hollows to provide solid traction in tough terrains such as dry dirt and rocks. Each bob acts as an independent claw thus increasing traction even when on hard surfaces.
Shallow Tread Outsole
These types of outsoles have treads with thin, wavy patterns for use in grass, muddy or any other slick walking surfaces but not steep terrain. They are designed to provide maximum traction when walking on slippery surfaces while not picking up mud.
Athletic or Hiking Outsoles
These have shallow lugs, which are Omni-directional and have a wide range of uses. These types of outsoles are lightweight and with a shallow grip thus making them ideal for all-purpose use.
Choosing Advantages for Logging Boots
Construction Type
Most regularly, the crafting technique used encompasses the use of leather or synthetic welt. A welt simply refers to the strip of material that is placed between the upper and lower sole. Logger boots constructed in this way are considered to be the most rugged and durable.
The second technique is generally referred to as cement method. It involves the use of flexible and durable adhesives to bind the sole to the boot. This technique is not only light but also cheap. Boots made using this technique are renowned for their comfort levels.
The last construction method is known as the direct-attached method. In this approach, mold is attached to the boot and then filled with molten rubber, which eventually hardens to form the sole. Boots constructed using this technique are lightweight, comfortable and shock absorbent.


Weight
Choose a boot that will not trouble you when working or walking. You see, logger boots tend to be heavy that's why it is advisable to choose a pair that will not become a burden to you.
Brand Name
When shopping for a logger boot, do not be quick to underestimate the significance of brands. For most products, brands names are more often than not deemed as irrelevant. However, this does not apply to logger boots.
The best and most durable in the world logger boots are designed by well-known brands such as the ones listed in the above reviews. Take your time to learn the history of a logger boot company to understand how equipped and durable their boots are.
Conclusion
Having researched and reviewed seven logger boots, it is now your turn to choose the one that meets your need and budget. This review will help you make informed decisions when shopping for logger boots with the additional features you might require in your line of work. After all, you do need to take care of your feet when working.